Posted by Liam Green on 7 April 2021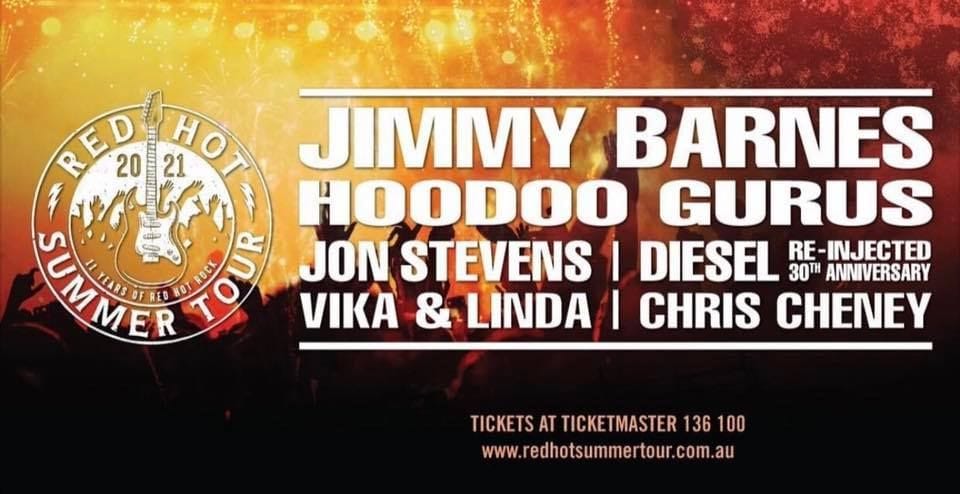 Red Hot Summer Tour 2021 - Mt Penang Parklands
Connect Coaches is providing a return transfer service to this event on Sunday 24th October, 2021. If you are living or staying within our advertised pick up/drop off area on the Central Coast, our driver will pick you up from your door & drop you back there at the conclusion of the event. Entry tickets into the Red Hot Summer Tour on this date must be purchased independently.
2021 RED HOT SUMMER TOUR EVENT INFORMATION:
MOUNT PENANG PARKLANDS
SUNDAY OCTOBER 24th, 2021
VENUE INFORMATION: Mount Penang Parkland located in Kariong. The venue is a grassed, open-air venue. Patrons are encouraged to bring a camp chair to the event, picnic rugs are not permitted. All areas of this venue have view of the stage.
COVID-19 INFORMATION: The event will be produced in accordance with the NSW Government Health Guidelines. The Red Hot Summer Tour are in regular communication with local and state government health departments and are 100% committed to providing you with a Covid Safe Event. For contract tracing purposes, all patrons entering the event must scan or sign in. All patrons must follow the Covid Safe Plan for this event. Prominent signage, Security and Covid Marshals will feature throughout the site. All patrons will receive an email / sms in the week leading up to the event linking you to our Covid Safe procedures and event rules / regulations.
ARTIST PLAYING TIMES:
Gates Open 1.00pm
Opening Act 1.30-2.00pm
Chris Cheney 2.15 - 2.50pm
Vika & Linda Bull 3.10 - 3.50pm
Diesel Re Injected 4.10 - 5.00pm
Jon Stevens 5.25 - 6.15pm
Hoodoo Gurus 6.40 - 7.30pm
Jimmy Barnes 8.00 - 9.30pm
Artist line up and playing times are subject to change.
CONDITIONS OF ENTRY: It is a condition of entry that all bags, chairs, eskies and personal belongings be presented to security staff for inspection and scanning at entry. Patrons detected attempting to bring BYO Alcohol into the venue will be refused entry / ejected without refund. Please note that this event also has a No Pass Out policy so please come prepared for the full day.
PERMITTED ITEMS: You may bring to this event: Camp Chair, Sealed Still Bottled Water (not carbonated), Snack Foods, Small Esky or Cooler Bag, Rain Poncho, Non Professional Camera. It is also advised to bring a wide brimmed hat and sunscreen to the event.
PROHIBITED ITEMS: Items strictly prohibited from entry: Alcohol, Soft Drink & Non Alcoholic Beverages (apart from sealed still bottled water), Picnic Rugs, Umbrellas, Glass, Metal Cutlery, Pets, Tables, Professional Cameras, Shade
Structures, Tents, Offensive Clothing, MC Club Attire, Bicycles, Scooters, Food Dye.
FOOD & BEVERAGE: This event will have a large range of food available for purchase, and includes menu items for intolerances and vegetarian / vegan patrons. A public bar will also operate for the event duration offering a range of Beer, Wine, Cider, Spirits and Non Alcoholic Beverages.To comply with NSW Licensing Beer, Cider and Spirits served will be Mid Strength.
AGE RESTRICTIONS: This event is strictly 18+
WEATHER POLICY: This event is an open-air concert that will proceed rain, hail or shine. In the very unlikely event of an event cancellation, all ticketholders will be advised via SMS, Email, Social Media as well as an update on this website. The event will only be cancelled if the site is deemed too dangerous to proceed / continue. This decision will be made by Event Management / Security / The Venue and Emergency Services. Patrons are advised to come prepared for the elements with appropriate attire, sunscreen, wide brimmed hat, jacket/poncho.
Venue: Mount Penang Gardens
Starting: 11:00 AM
Sunday 24th October 2021
Ending: 11:00 PM
Phone Enquiries: 0243254053
Email Enquiries: admin@connectcoaches.com.au
Price per person: $40 - Includes home pick up & drop off service (see our advertised pick up/drop off area), return transfer service to event
Times:
Home pick up service will commence at approximately 12pm. Connect Coaches will contact you a few days prior to the event with your pick up time.
Arrive at Venue: 1pm
Depart Venue: at the conclusion of the final act (approximately 10pm)
Concert Pick Up Area Map: Please Click Here
Red Hot Summer Tour Entry Tickets: Click Here to purchase tickets to the event
Refund Policy: Once purchased, Connect Coaches will only refund your return transfer ticket if it can be resold.
Please Note: If any passenger shows signs of being heavily intoxicated or under the influence of drugs at the conclusion of the event, Connect Coaches reserves the right to refuse their entry back onto our vehicle for the return journey. This is to ensure that the safety & comfort of our passengers & driver is maintained.