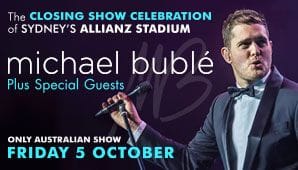 MICHAEL BUBLÉ IS BACK TO THRILL AUSTRALIA IN A ONE-OFF CLOSING SHOW CELEBRATION OF SYDNEY'S ALLIANZ STADIUM!
Global superstar Michael Bublé will thrill Australian audiences after a long absence from performing during a one-off special event on Fri 5 Oct to mark the closure of Sydney's Allianz Stadium, which will be closed for three years for refurbishment and reconstruction.
It's the first time Bublé has returned to Australia since his hugely successful, record-breaking 2014 tour.
Don't miss the chance to welcome Michael Bublé with full band, back to the Australian stage!