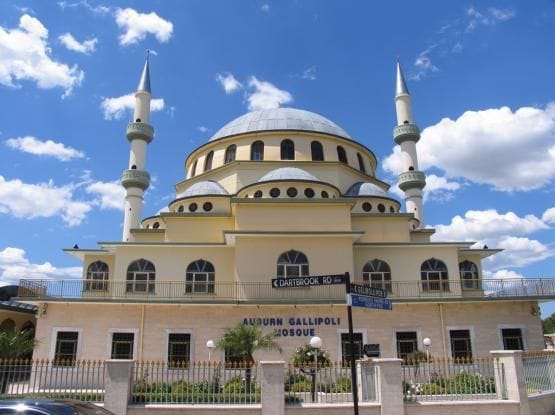 The Auburn Gallipoli Mosque is an Ottoman-style mosque in Auburn. More than 500 worshippers attend every day and around 2000 worshippers attend the weekly special Friday prayer. A qualified guide will take you on a tour of the mosque. Following the tour, passengers will indulge in a delicious banquet at Al Aseel Lebanese Restaurant. Before starting the trip back to the Central Coast, we will drop into Abla's Pastries at Granville to purchase some Lebanese pastries.
Venue: Sydney
Starting: 8:00 AM
Saturday 6th June 2020
Ending: 5:00 PM

Phone Enquiries: 02 4325 4053
Email Enquiries: click here
Price includes: Home pick up & drop off service, return tranport to venues, morning tea, banquet lunch, guided tour of mosque

Itinerary*:
8.30am: Depart the Central Coast
9.30am: Morning tea (coffee/tea & homemade slices)
11am-12pm: Guided tour of Auburn Gallipoli Mosque
12.30-2pm: Lunch at Al Aseel Restaurant, Greenacre
Banquet Menu:
Starting with authentic dips & salads, hommos, baba ghanouj, tabouli & fattoush
Followed by falafel, kibbe meat, sambousek meat & hot chips
Finished with mansaf rice & a trio of succulent skewers - lamb, chicken & kafta
2.30: A visit to Abla's Pastries, Granville
4.30: Approx. arrival time back on the Central Coast
*times are approximations only
Minimum Number: This tour requires a minimum of 15 passengers to proceed.
Please Note: Please wear long, loose clothing and socks as shown below.
Long skirts, slacks or trousers are required for entry into the Mosque.