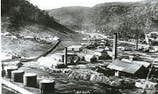 Joadja Town - Public Day Tour - A Southern Highlands Adventure

Joadja was a kerosene shale mining town which operated from 1878 to 1911 under the management of The Australian Kerosene Oil and Mineral Co.
After the collapse of the industry, the town was sold in 1911 and it's people left the valley. Today, the property is open for visitors wanting to explore this bygone era and the natural beauty of this hauntingly magical place.
The new Joadja Distillery pays homage to the thosands of Scottish miners and their families who made the journey to this country all those years ago.
Tours of the Joadja Historic Site run for approximately 90 minutes and are conducted using their purpose-built people movers. There will be opportunities for you to get off the people mover and walk around the ruins, take photos, etc. After the tour of the ruins, you can also do the Joadja Distillery Tour which includes tastings.
Click here for more information about Joadja.
Venue: Southern Highlands
Starting: 7:00 AM
Wednesday 25th March 2020
Ending: 7:00 PM
Repeats: On specific dates
Phone Enquiries: 02 4325 4053
Email Enquiries: admin@connectcoaches.com.au
Pick Up Location:
7:00am - 8:00am Home Pick Ups Click here to view pick up area
Minimum Passengers:
This tour requires a minimum of 20 passengers to proceed. A full refund will be issued to passengers if Connect Coaches cancel this event due to lack of numbers.
Maximum Passengers: 28 Seated Coach
Terms & Conditions: Click Here
Purchased Date: Tickets must be purchased by 26th March 2019 to secure booking
Trip Plan:
7:00am - 8:00am Home pick-ups
8:00am - Depart Kariong
11:30am - Arrive Joadja in the Southern Highlands
3:00pm - Depart Joadja
6:30pm - Arrive at Kariong to commence home drop-offs
Morning Tea: Provided on arrival at Joadja
Lunch:
Provided by venue - BBQ lunch
Price: $105 p/person
Price Includes:
Home pick-up & drop-off coach service
Return transport to venue
Fully guided 90 minute tour of the Joadja ruins & distillery (includes tastings)
Morning Tea & Lunch