Wedding Planning can be stressful at times, so why not tick one of those items off the list and let us provide you with the transportation.
Liam & Alison from Connect Coaches can help with the transfers of your:
wedding guests
Bridal party
Groomsmen to the wedding or the reception.
Our mini coach or one of our mini buses provides you with the choice to pick the perfect vehicle.
Mini Coach has all the modern facilities of a luxury full size coach
Air Conditioning
Leather reclining seats
PA System , DVD
We have two Mini Buses to choose from......one seats 12 people comfortable and the other seats 20.
Whilst we cannot remove all your wedding planning stress, at least you can breathe a sigh of relief knowing that the transport side of things has been taken care of. We have the right attitude and determination to provide successful wedding bus charters. Our knowledgeable staff have the right experience in itinerary planning to help you finalise the transport service.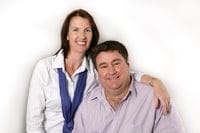 Liam & Alison