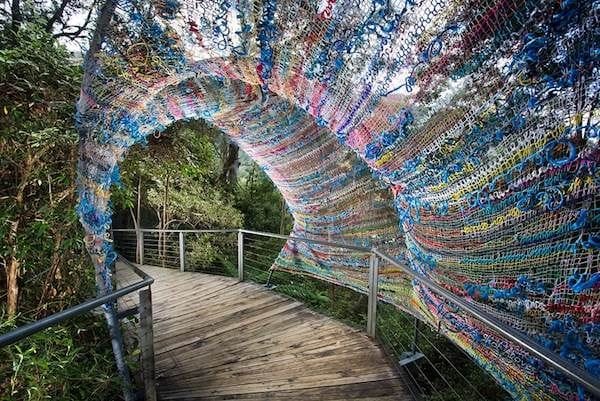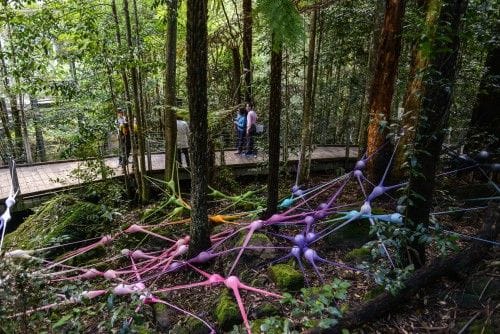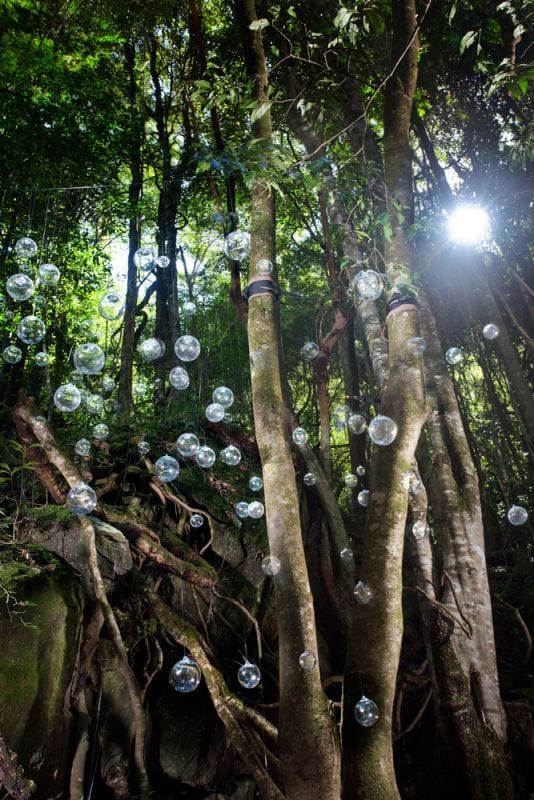 Located in the World Heritage listed Blue Mountains, Scenic World offers epic panoramas of wilderness, waterfalls, escarpment and rainforest.
Sculpture at Scenic World will transform the ancient Jurassic rainforest into an outdoor art gallery, showcasing thought provoking artworks from local, national and international artists. Now in its ninth year, it is one of Australia's premier outdoor sculpture exhibition which transforms the ancient rainforest into an outdoor gallery in the heart of the World Heritage-listed Blue Mountains.
View this landscape from different persepctives & unleash your sense of adventure on Scenic World's Skyway, Railway, Walkway & Cableway (all included in price)!
The Scenic Skyway is the largest aerial cablecar in the Southern Hemisphere. Glide between cliff tops and gaze at the rainforest canopy through the glass floor. Suspended 270 metres above ancient ravines, the Skyway provides a unique thrill as breathtaking views are revealed beneath your feet through the electro-glass cabin floor (seating and solid flooring is also available). With 360° views, the 720 metre journey provides the best views of Katoomba Falls, the Three Sisters, and Jamison Valley stretching to the horizon.
Discover the thrill of riding the Scenic Railway, steepest passenger railway in the world. This experience offers glass-roofed carriages with expansive views of the rainforest setting and spectacular Jamison Valley. The Railway experience descends 310 metres through a cliff-side tunnel, emerging into ancient rainforest at the Jamison Valley floor.
The Scenic Walkway is an elevated boardwalk that immerses visitors in Jurassic rainforest on the Jamison Valley floor. Along the way, explore elements of the site's coal mining history including the mine entrance, a replica miners' hut and scale bronze sculpture of a miner and his pit pony. Listen for the native lyrebird & taste pure Blue Mountains water straight from Marrangaroo Spring. Enjoy a peaceful moment in the open-air Rainforest Room, or on rest benches located along the route. Options for various walks taking ten minutes or a full hour are clearly signposted, along with the wheelchair accessible link between the bottom Cableway and Railway stations.

The Scenic Cableway provides panoramic views of the Blue Mountains. The 545 metre journey gently descends into the Jamison Valley and also returns visitors to the top of the escarpment. The Cableway's fully enclosed cabin is a unique vantage point for viewing the Three Sisters, Orphan Rock, Mt Solitary and Katoomba Falls.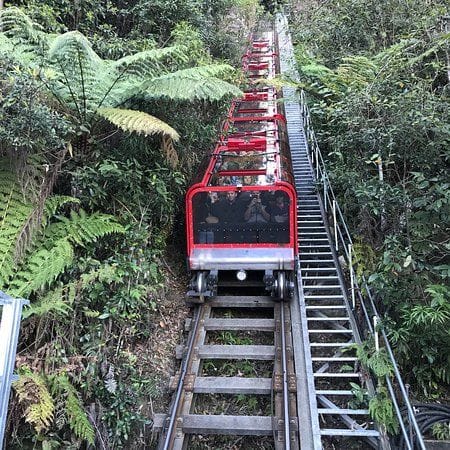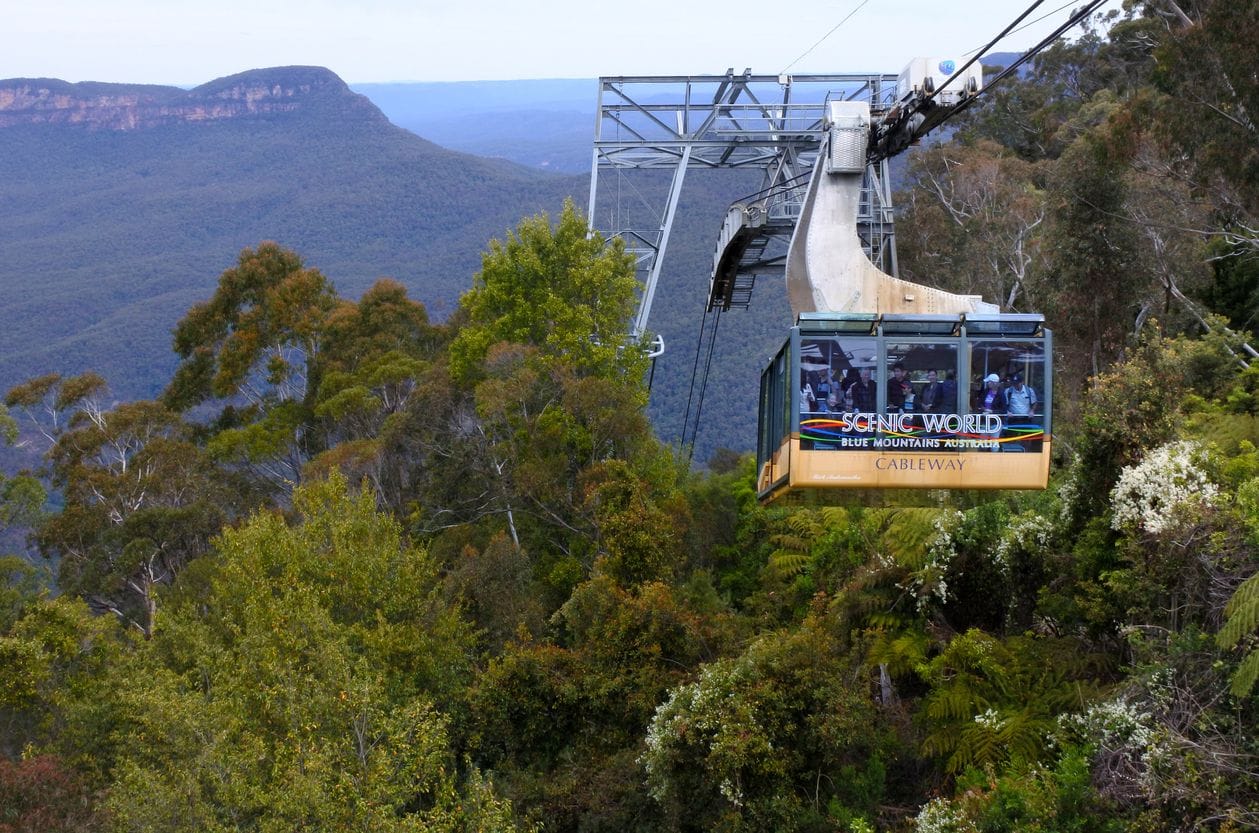 *Itinerary:
7 - 8am: Home pick up service
Comfort stop & morning tea - provided by Connect Coaches (tea, coffee, homemade slices)
11am - 3pm Arrive at Scenic World & enjoy all it has to offer
6pm - Arrive back at Kariong & commence home drop off service
*Times are approximations only & subject to change
Venue:
Blue Mountains
Repeats:
On specific dates
Phone Enquiries:
02 4325 4053
Email Enquiries:
admin@connectcoaches.com.au
Price:
$95 - Includes home pick up & drop off service, return transfer to venue, morning tea, entry into Sculpture at Scenic World & unlimited access to all attractions (cableway, railway, walkway & skyway)
Morning Tea:
Provided by Connect Coaches
Lunch:
To be purchased from one of the many cafes at Scenic World (not included in price) or you can choose to bring your own lunch to enjoy.
Terms & Conditions:
Click Here
Minimum Number:

10 passengers for this event to proceed

13 passengers or less - Mercedes Sprinter Mini Bus

14 passengers & above - Mid Size Coach