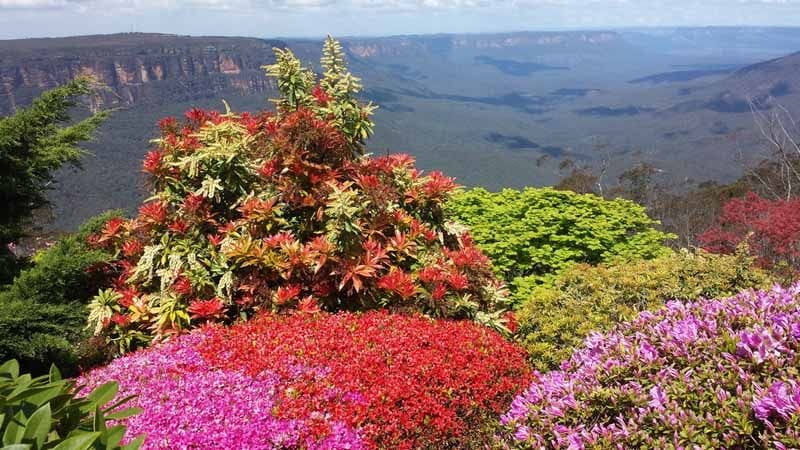 Visit 10 beautiful gardens over two days in Spring.
Visit 10 beautiful gardens over two days in Spring.
Venue: Blue Mountains
Starting: 9:00 AM
Friday 8th October 2021
Ending: 6:00 PM
Sunday 10th October 2021
Phone Enquiries: 43254053
Email Enquiries: admin@connectcoaches.com.au
Accommodation:
Fairmont Resort, Leura
Proposed Itinerary:
Day 1
8.30am: Depart the Central Coast after home pick up service
9.15-9.30am: Comfort stop at McDonalds, Thornleigh
11am: Arrive at Leura & spend the day exploring some of the beautiful gardens that are taking part in this year's Leura Garden Festival
In the afternoon, we will check in at the Fairmont Resort & Spa
7pm: A two course dinner will be enjoyed whilst looking out over the Jamison Valley at the resort's restaurant, Jamison's
Day 2
After breakfast at the resort, we travel an hour & a half to Mayfield Garden in Oberon. The day will be spent discovering why this garden is so admired by all those who visit. Lunch will be at the cafe at passengers' expense.
A two course dinner will be enjoyed at the excellent Katoomba Family Hotel.
Day 3
After breakfast at the resort, passengers can choose to visit a few more gardens in Leura or stay at the resort & make use of their facilities. Lunch will be at a cafe in Leura before heading back to the Central Coast
Price per person:
$819 - Double / Twin Share
$1019 - Single
Price Includes: Home pick up & drop off service (within our advertised pick up/drop off area), return transfer to venues, 2 nights accommodation, 2 breakfasts, 2 dinners,1 lunch & entry into all gardens
Passenger Numbers: This event will be limited to 8-12 passengers
BOOKINGS: This tour is currently fully booked. Please contact us on 4325 4053 to be placed on our reserve list.
Venue:
Blue Mountains
Starting:
9:00 AM
Friday 8th October 2021
Ending:
6:00 PM
Sunday 10th October 2021
Phone Enquiries:
43254053
Email Enquiries:
admin@connectcoaches.com.au
Accommodation:

Fairmont Resort, Leura

Mayfield Garden, Oberon:

Mayfield was established in 1984, initially as a sheep farm. The heart of the property has been gradually transformed from bare paddocks into one of the largest, privately owned cool climate gardens in the world.

The Gardens:
The gardens listed below have taken part in previous Leura Gardens Festivals. As yet, the gardens that will take part in 2021's festival, has not been decided.
The Braes, Leura:

The Braes

The Braes Heritage Garden Estate is adjacent to the Blue Mountains World Heritage National Park and lies between an urban environment and a semi-rural one, with views to the Southern Highlands.

---

Nesuto Leura Gardens:

Nesuto Leura Gardens

Two gardens will be open during the Festival - the Lady Fairfax and the Margaret Stevens.

The garden contains an English oak, scarlet oak, linden tree, many Japanese maples, rhododendrons and azaleas. The wood under the English beech and silver birch is carpeted with bluebells in spring and there is also a stream and rock pool built by Hood.

---

Dead End House, Leura:

Dead End House

This natural garden has been a regular in the Garden Festival for many years and always a delight to visit. This lovely garden includes beautiful ironstone walls and drum pillars, terraces, ponds and colourful mosaics.

---

Hill of Grace, Leura:

Hill of Grace

The garden was created in the 1970s & hosts fantastic views.

Most plants in this spectacular garden are very mature with maples, azaleas, rhododendrons and camellias being used extensively through the entire garden.

---

Ewanrigg, Leura:

Ewanrigg

Ewanrigg is a garden that encourages visitors to amble and explore its intricate network of pathways and steps while admiring the foresight and talent of its creator and those who have nurtured it since.Over the decades many visitors to Ewanrigg have suggested the strength of the garden is the wisdom of having planted trees in the past that now act as a canopy to a series of lush garden rooms.

---

Fairways, Leura:

Fairways

Fairways is an established garden built in 1896 as one of Leura's first guesthouses.

The garden was redesigned 18 years ago by Christopher Wallis of Venetiaville Designs. Fairways retained some of the mature trees including one of the Blue Mountains' largest rhododendrens located at the entrance to the property; an English holly, a crabapple and flowering cherries, giving the garden its sense of place and combining the old with the new.

---

St Annes, Leura:

St Annes

The best-known feature of St Annes has been its front hedge of Cypress pines, which appeared on 'Burkes Backyard' and as an exemplar of its kind in gardening magazines and horticultural manuals.

Behind the hedge lies a woodland garden that celebrates trees: red and white oak, copper beech, cypress, cherry, pine, dogwood, liquidambar, deodar cedars, maple and more.

---

Glenshiel, Leura:

Glenshiel

Glenshiel is about an acre in size and was purchased by the current owners in 2009.

The garden was a blank canvas with much bush needing to be cleared. It is, therefore, a relatively immature garden with the only original tree, a crabapple, thought to date back to the origins of the house (c1917).

---

Everglades Historic House & Gardens, Leura:

Everglades

Everglades is the largest and most famous garden designed by Paul Sorensen, Australia's "Master Gardener". Work began in 1934 after Belgian-born businessman Henri Van de Velde hired Sorensen to oversee work on 13 acres of steeply sloping orchard.

Nearly nine decades later, Everglades is now maintained by the National Trust and attracts and delights 25,000 visitors each year.

On entering the main gate, you are greeted by a colourful swathe of spring-flowering bulbs, vivid tulip beds, daffodil lawn and drifts of bluebells. Azaleas and rhododendrons are ablaze with colour on the southern slopes, with views of the Jamison Valley beyond.

---

Please Note:
Whether the Leura Garden & Mayfield Garden Spring Festivals proceed in October 2021 is dependent upon Covid-19 restrictions at the time.