Saturday 17th September, 2022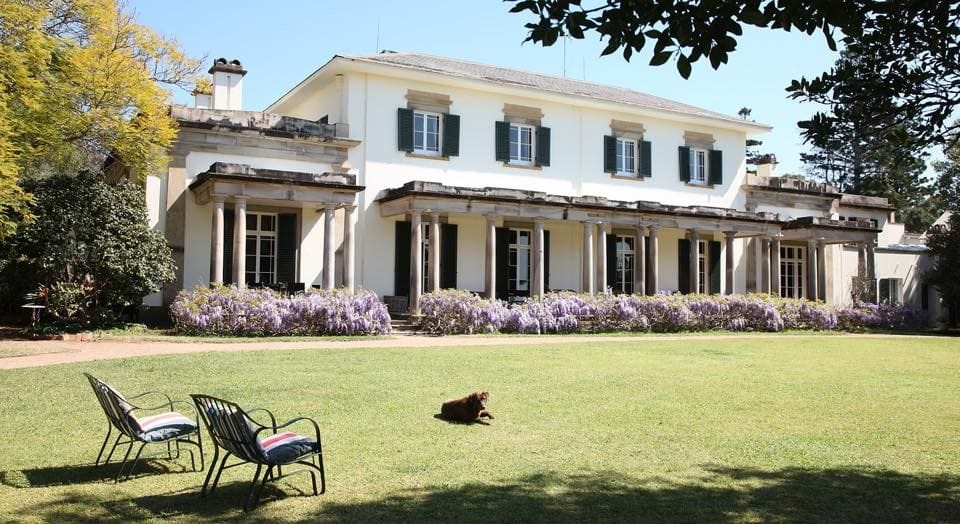 Camden Park was designed by colonial architect John Verge for wool pioneers and agricultural entrepreneurs John and Elizabeth Macarthur. Since its completion in 1835, Camden Park has been recognised for its fine architecture, its connection to the Macarthur family and to the many and varied contributions made by this family to the development of agriculture in Australia. In all, seven generations of John Macarthur's descendants have resided at Camden Park.
Camden Park House was designed as the centrepiece of the property "Camden Park", which was established in 1805 when the Colonial Secretary Lord Camden, ordered Governor King to grant 5,000 acres (2,023 hectares) of land in the Cowpastures area fronting the Nepean River near Mt. Taurus to John Macarthur. By the late 1830's this land had expanded by grant and purchase to around 28,000 acres (11,300 hectares).
The House
Solid, calm and unpretentious, Camden Park stands on a rise and is set in a plantation of trees. Commenting on its architectural pedigree, Morton Herman noted that "Verge received two hundred pounds for designing the finest building to come from his drawing board". Amidst an early period on appreciation and concern for early Australian buildings, The Royal Australian Institute of Architects in their report of 1949 observed: "If nothing else in Australia is saved, this house must be."
The Garden
The design and planting of the Camden Park garden commenced in the early 1820's, well before the construction of the house. An appreciation of the garden and surrounding landscape commences with four significant vistas which were created to be viewed from the house and provide an insight to the scale of vision and planning behind the creation of this garden.
The garden is largely the legacy of William Macarthur, John's fourth son. William, who was a keen botanist, planned the structure of the main and "Lower Garden", built the hothouses and irrigation systems and created a collection of plants that were unique in their day. Highlights of the garden include the existing remnant structures, many mature specimen trees, a variety of bulbs and the magnificent wisteria which borders the eastern verandah of the house.
*Itinerary:

8-9am: Home pick up service (click here to view our pick up area for this event)

9am: Depart the Central Coast after home pick up service

Comfort stop enroute to venue

11am - 2pm: Camden Park House (time to explore the house & garden & purchase lunch from one of the stalls or bring a picnic lunch from home to enjoy in the garden)

4pm: Arrive back at Kariong & commence home drop off service

*Times are approximations only & are subject to change.
Price Includes:

Home pick up and drop off service (within our advertised pick up/drop off area)
Return transfer to venue
Morning tea enroute to venue (bottled water, juice, biscuits, mini muffins)
Guided tour of Camden Park House & entry into the garden
Price:

$105 - Adult

$100 - Concession
Click here to complete an Expression of Interest Form & we will book you in for this exciting event!
Please Note: If a person cancels their ticket for this event, a refund cannot be issued unless we can resell the ticket.
| | |
| --- | --- |
| Venue: | Menangle |
| Starting: | 7:30 AM |
| | Saturday 17th September 2022 |
| Ending: | 4:30 PM |
| Phone Enquiries: | 0243254053 |
| Email Enquiries: | admin@connectcoaches.com.au |